Get the Skills to Be a Professional Cosmetologist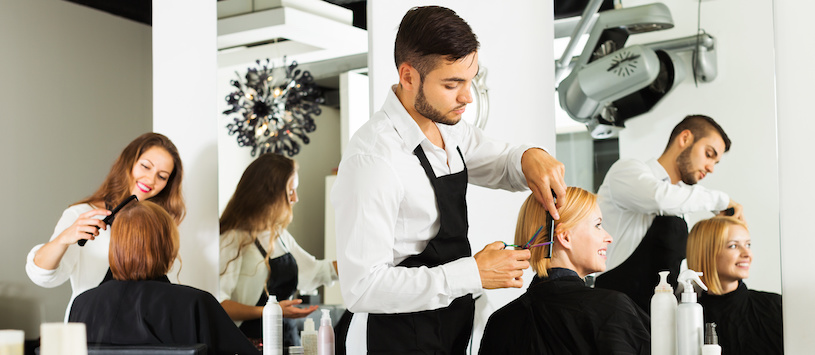 11 Month* Cosmetology Career Training in Hayward and Santa Clara, CA
There are many perks to becoming a Cosmetologist, which is why people who work in the beauty industry report having high job satisfaction. And who wouldn't be satisfied, you get to have fun while doing what you love!
As a Cosmetologist, your job is to make people look stylish and feel great about themselves. You've probably experienced the feeling yourself – there's nothing like the boost in confidence you get when you receive a killer haircut, glamorous makeup, or decorative nails that make you feel fabulous. Clients appreciate a beauty professional who'll make them feel that way. That's the fun part – you get to be the rockstar stylist of your customer's world!
The best way to see if Moler Barber College is the right fit for you is to see it for yourself. You can tour our facilities, and meet with both students and instructors. Book a Tour Now or Get more info.
Becoming a Qualified Cosmetology Professional
The Cosmetology program includes 1600 clock-hours of theory and practical application. The program is designed to prepare you to take the State Board of Barbering & Cosmetology examination, which you must pass in order to become a licensed Cosmetologist. Moler goes the extra mile to give you the tools to pass the examination, with practice exams and more. We want to see you succeed, so we'll do everything that we can to give you the best odds of success.
During Moler's 46-week* Cosmetology Training Program you'll learn:
Hairstyling
Permanent Waving & Chemical Straightening
Hair Coloring & Bleaching
Hair Cutting Health & Safety Laws
Eyebrows and Make-up
Manicuring, Pedicuring
Artificial Nails and Wraps
Shop Management
Laws and Regulations
Flexible Schedules Equal Convenient Training for You
You may want to attend Cosmetology school, but you have other important responsibilities that you have to attend to – we get it. Our goal is to make school accessible for all people. That's why we work to customize our class schedules around your life, making it more convenient for you to attend school.
Moler College offers flexible school schedules, including:
Day programs
Evening programs
Full-time studies
Part-time studies
Weekly start dates mean you can start your career training soon after registering. After 11-months*, you'll be prepared to take the licensure exam and be on your way to pursuing your new career.
Get On-the-Job Experience in a Real Salon
With a hands-on trade such as Cosmetology, you need to practice on real clients to grow into a competent Cosmetologist. You'll get the chance to do just that in our student salon. In our on-site salon, you can practice cutting-edge techniques on real clientele under the supervision of industry-experienced instructors. This valuable experience will give you confidence in your abilities when it's time for you to enter the industry.
Milady MindTap Curriculum Will Put You Ahead
An excellent education will lay the foundation for you to become successful. We use the signature Milady MindTap curriculum, so you get career training from one of the most respected Cosmetology training experts in the business.
A Bright Career Outlook
There is a great job outlook for Cosmetologists in the coming years. The Bureau of Labour Statistics projects that employment of Cosmetologists is anticipated to grow 13% between 2016 and 2026. That's faster than the national average for other occupations. Why? It's simple, with a growing population more people will need their hair cut and require other beauty services.
Chose Which Industry You Want to Work In
Some benefits of a Cosmetology career are flexible working schedules and diverse job opportunities. Forget the boring 9-5 job; many salons allow you to have flexible hours leaving you time for other commitments in your life. There's also a ton of employment avenues that you could take. You could work in a hair salon, travel the world while working on a cruise ship, or aspire to become a top Cosmetologist working for celebrities. Whatever your aspiration is, there's a path for you to pursue starting with Cosmetology career training.
Cosmetology professionals can pursue work in a variety of industries, including:
Salons
High Fashion Shows
Editorial Photoshoots
Weddings
Television, Film, and Theater Sets
Hospitality – Hotels, Resorts, Spas, and Cruise Ships
Beauty Manufacturers
And much more!
You could even choose to go the entrepreneurial route and become self-employed. Being your own boss is a full-time job, but it means you have ultimate control over your career.
Prepare For Certification – Your Ticket to Employment
Moler's Cosmetology program is designed to thoroughly prepare you for the license examination that is conducted by the State Board of Barbering & Cosmetology. This course is a prerequisite for your application to the State of California licensure exam. Our goal is for you to learn all of the skills and knowledge that the exam covers, instilling confidence in you when you enter your exam.
Passing the certification exam demonstrates that you are a capable Cosmetologist. Ultimately, earning your certification is your ticket to pursuing entry-level employment as a Cosmetologist.
Get the Support You Need to Launch a Successful Career
At Moler, we believe lack of financial resources should never be a barrier to your education. That's why we participate in several federal funding programs aimed at supporting students who are pursuing post-secondary education. Your career training can be possible with the help of Federal Student Aid, Pell Grants, Veterans Benefits, and other Financial Aid programs. Sit down with one of our financial aid advisors, and they will work to help make Cosmetology school accessible for you.
Is an Artistic Cosmetology Career Right For You? Get More Info…
If you're interested in learning more about careers in Cosmetology and exploring whether Moler College is right for you, fill out the form on this page to receive more information.
For immediate questions, call 510-237-3800
*Program length when completed in normal time
Click HERE for important information about the educational debt, earnings, and completion rates of students who attended this program.