Get the Skills to Be a Professional Barber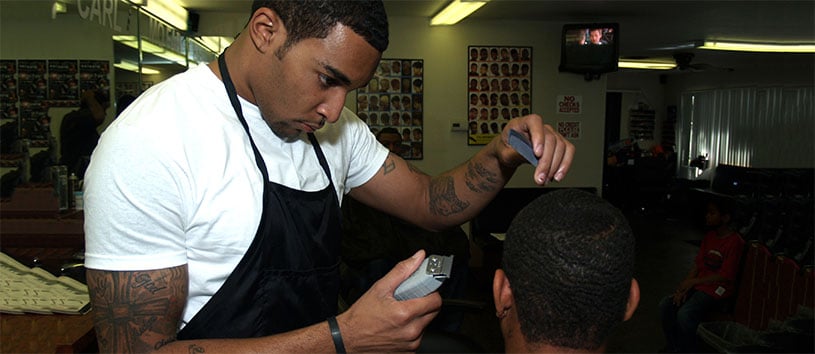 10 Month* Barber Career Training in Oakland, Hayward & San Pablo, CA
Discover a rewarding career that sparks your creative passion. Family-owned and dedicated to your success, Moler Barber College wants you to be in control of your career and your life. Your new career starts now.
Becoming a Professional Barber
Here at Moler, we know exactly what it takes to start a successful career as a Professional Barber. How? Because our instructors are still actively involved in their own careers and have earned valuable entrepreneurial experience.
Not only will you learn crucial barbering techniques, but you'll also get guidance from professionals who know the ins and outs of the business.
Here's what you'll learn in Moler's 43 week* Barber Training Program:
The Basics of Barbering-Styling
Advanced Barber-Styling
Design Techniques
Barber Science
Chemicals and Treatments
Industry Related Business Principles
Operating in the Field and Practical Application
You'll also feel right at home with our friendly instructors and diverse student body. Our students range from young single parents to older applicants seeking a new a career.
The best way to see if Moler Barber College is the right fit for you is to see it for yourself. You can tour our facilities, and meet with both students and instructors. Book a Tour Now or Get more info.
Our Barber Program is also offered at the Moler Cosmetology College Santa Clara location.
Learn From Industry Experienced Instructors
This course is led by credible and top-performing barbering instructors and haircutting experts in the San Francisco Bay Area. Our community of students and instructors at Moler Barber College work together to cultivate creativity and combine it with our proven curriculum to generate professional and dedicated barbers that are among the best in the industry.
Condensed Refresher Programs
Already have some experience in another state or need to re-take the California Barbering exam? Moler offers condensed versions of our Barber program so that you can pass the exam with confidence.
Barber Re-Enrollment

We offer accelerated programs for students looking to re-take the barber exam but need to brush up on their training to get licensed. Get the skills and confidence you need in a quick and affordable way.

Barber Refresher

Hold an out-of-state or country license? Enter the California licensing exam with confidence through our condensed refresher program. Earn your license and continue your career in California.
Dedicated Career Services
We don't stop working for you once you graduate. It's in our best interests to see our graduates go on to achieve success. That's why we work as hard as we can to connect you to industry professionals and set you up for a phenomenal career. And our career counsellors are always on your side, no matter what challenges you're facing.
Financial Aid – Funding Your Career Training
We offer Federal Student Aid (FAFSA) and Veteran Training Benefits to students who are eligible. Our Financial Aid advisors and College Certifying Officials will work with you to find the best financial solution to fit your needs.
*Financial aid is available for those who qualify.
Prepare for Certification
Don't waste your time taking Barbering courses that don't prepare you for the California Barbering exam. You'll feel confident knowing that you've acquired the skills and knowledge that the exam covers.
Is a Creative Barber Career Right For You? Get More Info…
If you're interested in learning more about careers in Barbering and exploring whether Moler Barber College is right for you, fill out the form on this page to receive more information.
For immediate questions, call 510-237-3800
*Program Length when completed in normal time.
Click HERE for important information about the educational debt, earnings, and completion rates of students who attended this program.