Barber Instructor Training Program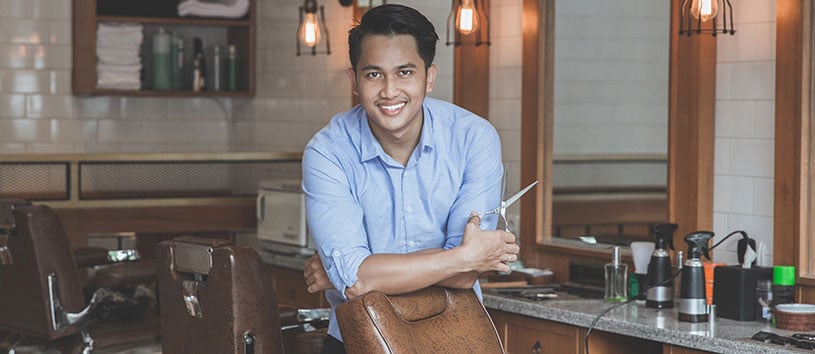 15 Week* Barbering Instructor Program in Oakland, Hayward & San Pablo, CA
You've mastered your craft. Your sense of style is as sharp as the tools your carry. Now, you want to grow your career by passing your knowledge and experience on to others.
Learn how to become a top instructor with the barber school that's been teaching for 108 years.
Become a Barber Instructor
Instructing is a rewarding way to give back to the industry and make an impact on others. Not only that, but you gain a valuable skillset that can take you a step up in your growing career. You get to build strong, personal relationships with beginning barbers and watch them grow into confident professionals as they use the skills you've taught them.
Moler's Barber Instructor Program gives you the skills needed to train and mentor barbering students in just 15 weeks*. Learn from top-performing instructors whose own breadth of teaching experience will prepare you for the challenges and reward in hands-on teaching methods. During the program, you will gain skills in:
Teaching Methods, Procedures & Theory
Practical Phases of Barbering
State Examination Procedures
The best way to see if Moler Barber College is the right fit for you is to see it for yourself. You can tour our facilities, and meet with both students and instructors. Book a Tour Now or Get more info.
Career Opportunities
As a graduate of the Barber Instructor program, you can pursue instructor opportunities with confidence knowing that you learned from an approved and accredited institution. You can pursue work opportunities at other barber schools and better provide support to training barbers at approved establishments.
Dedicated Career Services
We don't stop working for you once you graduate. It's in our best interests to see our graduates go on to achieve success. That's why we work as hard as we can to connect you to industry professionals and set you up for a phenomenal career. And our career counsellors are always on your side, no matter what challenges you're facing.
Learn From Industry Experienced Instructors
This course is led by credible and top-performing barbering instructors and haircutting experts in the San Francisco Bay Area. Our community of students and instructors at Moler Barber College work together to cultivate creativity and combine it with our proven curriculum to generate professional and dedicated barbers that are among the best in the industry.
3 Convenient Locations
You can enroll in this program at our main Oakland campus or at our Hayward and San Pablo satellite campuses.
Financial Aid – Funding Your Career Training
We offer Federal Student Aid (FAFSA) and Veteran Training Benefits to students who are eligible. Our Financial Aid advisors and College Certifying Officials will work with you to find the best financial solution to fit your needs.
*Financial aid is available for those who qualify.
Is a Creative Career as a Barbering Instructor Right For You? Get More Info…
If you're interested in learning more about careers in Barbering and exploring whether Moler Barber College is right for you, fill out the form on this page to receive more information.
For immediate questions, call 510-237-3800, a Moler admissions representative will be happy to answer any questions you have.

*Program length when completed in normal time.