About Moler Barber College

For over 100 years our passion at Moler Barber College has transformed the lives of our students.
Family owned and operated. Moler Barber College has been serving the Oakland community and East Bay for over 100 years. We are proud of our history and our track record of graduating top-notch barbers, and continue to provide discounted barber services to the Oakland community.
Since 1910 we have successfully graduated thousands of barbers, and delivered the freshest cuts and styles in the Bay Area. Moler Barber College is a California Board of Barbering and Cosmetology approved college that was founded on the principles of customer service, precision, and professionalism. We support our students through hands-on training, comprehensive work experiences, education that is tailored to the California Barber License exam and by ensuring that no matter their situation, students are supported in their learning with access to numerous financial aid programs.
Are you considering a career as a Professional Barber, but aren't sure if it's right for you?
At Moler Barber, we work with each student to cultivate their creativity and combine it with our proven curriculum to generate professional and dedicated barbers that are among the best in the industry. Our graduates become licensed barbers that go on to independently own their own businesses and become sought-after barbers in the Bay Area.
Contact us today to find out why our program is right for you!
At Moler Barber College, we offer courses and educational programs that are sure to meet your needs. We have programs for new students including cosmetology professionals looking to add skills or change fields to barbering, instructor training courses as well as refresher programs for licensed barbers. With this many programs, we are sure there is a program that is right for you. Contact us today to find out which program is the best fit for you!
Moler Barber College believes in giving back to our community by providing discounted barber services to Oakland, San Pablo and Hayward. We host annual backpack drives for elementary school students, coordinate children's gift donations and participate in community events.
Oakland Campus
3815 Telegraph Avenue
Oakland, California 94609
San Pablo Campus
14330 San Pablo Ave. Suite C
San Pablo, CA 94806
(San Pablo is a satellite of the Oakland campus)
Hayward Campus
22425 Main Street
Hayward, CA 94541
(Hayward is a satellite of the Oakland campus)
Class Hours
We have classes 6 days a week.
| | |
| --- | --- |
| Monday Nights | 4:00PM To 8:30PM |
| Tuesday – Friday | 9:30AM to 8:30PM |
| Saturday | 8:30AM to 4:30PM |
| Sunday | Closed |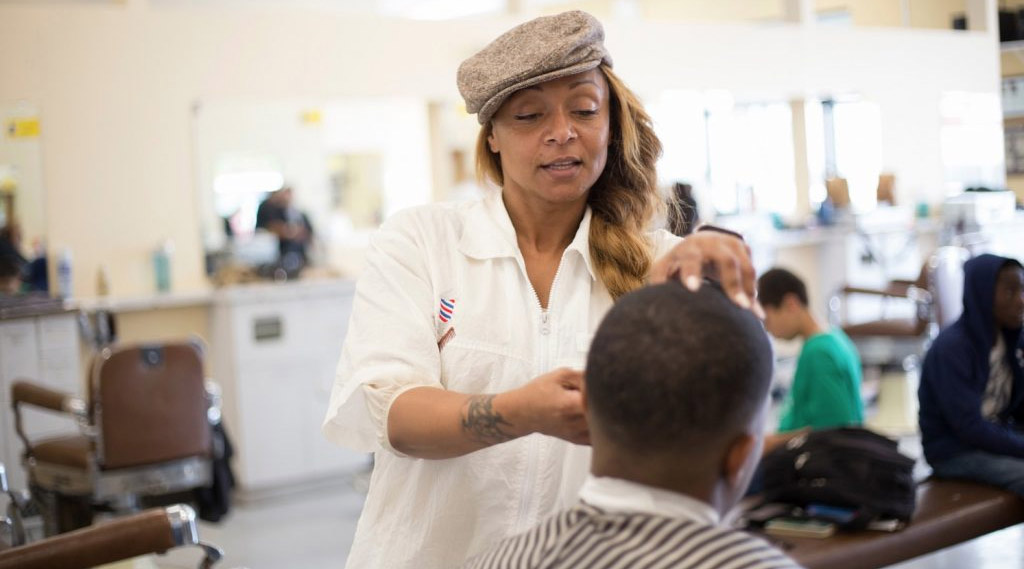 Anybody can cut hair off, but a barber knows when and where to stop

A Wise Barber,